Allworx View™ is a detailed data management application that gives you the information you need to make intelligent decisions for your business. Allworx View provides real-time and historical call data for Allworx phone systems. Allworx View ACD expands the capabilities of View to add information about Automatic Call Distribution (ACD) queue status and agent performance. The comprehensive information delivered by these applications can help:
Manage and optimize telecom costs – understand resource usage, support resource allocation initiatives to increase efficiency
Increase system security – collect information required to isolate harassing calls and other security threats
Encourage responsible telephone usage – identify calling patterns including commonly called numbers and times to monitor employee performance. Measure improvement with reporting.
Improve customer satisfaction – identify peak calling times and understand call flow to adjust queues, routes and agent availability to better fit business requirements
Increase revenue – use reports to support client or tenant billing
Support planning – document resource utilization and demand to support regular planning as well as planning for special projects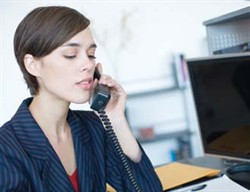 Both View and View ACD deliver information via real-time configurable dashboards and on-demand or scheduled reports. In a multi-site configuration, data is consolidated across all networked servers. View delivers call-oriented data. View ACD includes everything in View and adds real-time ACD queue and agent information for agents and supervisors.
The View and View ACD dashboards consist of multiple applet windows which can display a variety of data elements for calls, queues and agents. Dashboards and widgets are available to any browser-enabled device, desktop or mobile. Real-time threshold alarms can be defined by the user to identify current conformance to established targets. Any performance metric that meets the defined threshold is highlighted on the dashboard for easy spotting. With the configurable alarms in View ACD, supervisors and agents recognize and react to high call volume situations, minimize abandoned calls, and eliminate customer frustration.
Reports can be generated with selectable information, for configurable time periods, and filtered by any item within the report. Once generated, each report can be saved for personal use, shared with others or exported in a variety of formats.
Allworx View™ Features and Benefits
Allworx View provides continual collection and logging of all call detail records – incoming, outgoing, and internal. In addition, Allworx View provides the global collection of call detail records when each interconnected Allworx server is enabled within the application.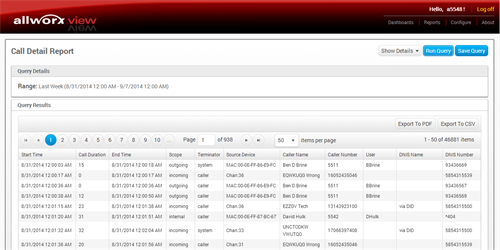 Allworx View:
Identifies who is using the Allworx phone system and how
Provides live dashboards and consolidated reports of all calls across all servers
Tracks an individual user's calls across multiple Allworx servers
Manages extensive call search resources and enables drill-down capability for detailed analysis and cost control
Offers many predefined reports; easily create custom reports to identify calling patterns
Enables the sharing of customized reports with all other users
Schedules automatic report generation and provides on-demand reporting; offers email report delivery for historical recordkeeping
Exports report information and raw call data into PDF, Excel, or CSV formats for import into other accounting or billing systems
Allworx View™ ACD Features and Benefits
Allworx View ACD provides additional features beyond historical call detail records. Allworx ACD can provide full support for monitoring queues and agents from single or multiple locations using the same dashboard, or different dashboards.
In an Allworx Multi-site environment, you can blend sites with View and View ACD to meet your specific needs and budgets. All sites benefit from consolidated call data reporting, and those sites with ACD have the added View ACD features.


Allworx View ACD:
Displays a scrollable Message/Marquee header along with three customizable sections for agent, queue, or active call statistics
Displays "at-a- glance" status of queues, lines, and agents on multiple devices
Displays as many widgets as needed in each section, enables scrolling, and adjusts to match the display device
Assists with queue and agent performance improvement using calling activity reports
Presents vivid display alarms, if queues or agents exceed defined limits
Delivers queue and agent alarms via email or SMS to allow rapid response to overflow situations
Enables supervisors and agents to view only relevant data for maximum effectiveness
Tracks and reports performance metrics for queues, agents, and agent groups
Defines role-based permissions to separate user access from administrator settings
From a single site or a network of interconnected Allworx servers, real-time monitoring with unlimited displays, along with comprehensive, customizable and cost-effective system detail will change the way you view your Allworx system – and bring clarity to the telecommunication challenges of today.
System Requirements
View is licensed per Allworx server. View ACD is additionally licensed per Allworx server to incrementally add the ACD display and reporting capabilities.
PC Requirements: Allworx View and Allworx View ACD install on any server class PC hardware running Microsoft Windows Server 2008 R2 or newer operating systems. For maximum reliability, Allworx recommends installing the Allworx View application on a dedicated server-class machine.
Allworx Server Requirements: Allworx View requires the CDR feature key. Allworx View ACD requires the ACDR feature key. For View ACD, an Automatic Call Distribution feature key is a prerequisite. All Allworx servers must be running system software version 7.7 or newer.