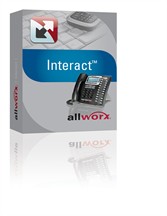 Allworx Interact™ applications bring effortless communication to your desktop. Interact offers control over your Allworx phone in an intuitive manner that improves personal productivity and efficiency. Interact is designed to leverage the simplicity of the PC-based user interface with the power of the Allworx handset, resulting in tangible benefits to Allworx customers.

Allworx Interact takes up minimal screen space but provides maximum information about each call as it arrives, and provides the ability to answer or ignore the call via the application interface.
Allworx Interact Pro adds the aspect of control to the application in a series of dockable windows. Users control presence management, current and parked calls, contacts and call history. The ability to see the presence and handset status of other Allworx users prior to placing calls makes connecting with co-workers easier than ever before. Third party applications can be integrated to provide additional information about each call. A powerful search capability enables entries in the Allworx directory and the user's contact list to be quickly found by name, number or date and utilized for error free, rapid dialing. Microsoft Outlook contacts are also incorporated into the Interact Pro database, allowing easy search and one click dialing.
Multiple Interact Pro windows, each with multiple choices for density, can be positioned anywhere on the screen and can be moved and resized as required. For important calls, a record feature uses a single click to store a call anywhere the user designates.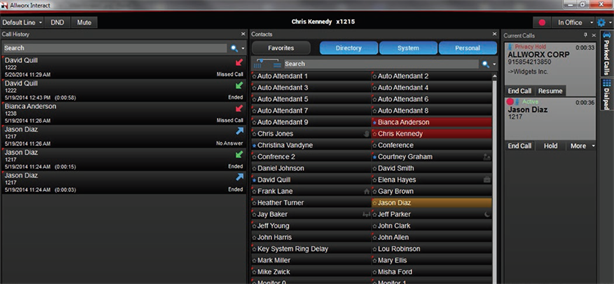 Allworx Interact applications are supported with Release 7.5 software and higher. Interact Pro requires an individual license for activation.
If you want more information on how Allworx Interact can improve your productivity, please contact Corporate Communications, LLC to learn how to upgrade your existing system – or to purchase a new Allworx system.