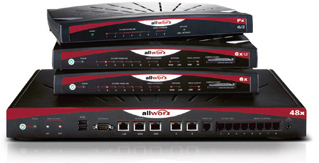 Allworx business phone systems a sophisticated system that keeps you connected to your customers.
Unlike many competitors' systems, Allworx gives you the luxury of choice in telephone technology. Our systems support both analog and VoIP phones — in any combination. That means you can adapt new technology all at once, or build up gradually. Either way, you have entered into the world of effortless communication.
How do you decide whether to stay with analog or switch to VoIP? Allworx can help you determine which phone is right for you.
User features:
Full PBX & Key System
Presence Management
Multi-site Integration
Unified Messaging
Voice Over Internet
Headquartered in Rochester, N.Y., Allworx is an award-winning maker of VoIP communication systems for SMBs and a wholly owned subsidiary of Windstream. Allworx provides a complete portfolio of VoIP systems, IP phones, network switches and advanced software options to help SMBs create solutions tailored to meet their unique needs. Allworx has deployed more than 40,000 VoIP systems and more than 600,000 IP phones across more than 25,000 business customers to date. Allworx is available to SMBs through a network of 1,000+ independent resellers in the U.S., Canada and Latin America, and also as Windstream IP Simple, a managed monthly subscription service that combines Allworx with VoIP and data services from Windstream.